Florian Steininger about "Leck" (English)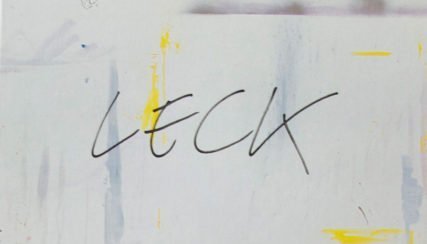 About Ronald Kodritsch - Leak
Ronald Kodritsch's artistic field is a media-pluralistic one. The constant move from traditional media such as painting and drawing to photography and motion pictures is primarily rooted in the intention to depict the self, the image of the artist - whether as authentic mirror image or as staged distortion of reality. The artist meanders in a dream-like state through his personal paradise, which gets smashed through the harsh and banal reality, which Kodritsch sarcastically reflects. Leak, the title of the exhibition catalogue has several connotations: i.e. springing a leak, taking a leak, leaking out.....
To judge Kodritsch's artistic results like a painting, according to its formal and technical qualities, would be insufficient. You can find the person Kodritsch also beyond colour and form, and beyond style-revolutionary discussions and the art historical placements of his pictures. Of course you can spot formal and thematic affinities in Kodritsch's often-occurring combinations of intuitive brush strokes and ironic-sarcastic-kitschy image contents, probably closest related to Sigmar Polke and Martin Kippenberger. In contrast to the German kings of painting, Baselitz or Lüpertz, who work with painting in a certain academic, craftsmanship and "thorough" way, Polke and Kippenberger are less bound to traditional media rules, they approach the easel with a slightly adolescent dilettantism, paraphrase and distort. In the late 1960s, Polke mimics Dürer's icon of the hare, whom he simply creates out of rubber bands, or paraphrasing abstract expressionist art, which seems to be the epitome of modernism per se, while he consciously places colour splotches and smears on the canvas. Both artists have an agitator-like nature, the painting operates as an essential puzzle part of the artistic concept and action.
Kodritsch's performance in painting, photography or video is slightly arrogant, with a great deal of entertainment, a humorous attitude and irony also towards the self, and quite nonchalant. Seeming vanity turns into consciously triggered and self-destructive clownishness. In his art, Kodritsch leaves room for his own dreams. He plays with clichés of the self-portrait as a star, as celebrity. During his participation in the exhibition Emerging Artists 2001 at the Essl collection, Kodritsch gave a fake star interview. He staged himself as star with all the cliché-like allures and a secret-spun aura, making a show of prestige-loaded acquaintances and relations - neighbour of Schwarzenegger on the Bahamas, lover and friend of Kate Moss, artist colleague of Andy Warhol in New York, junkie. Kodritsch wants to fly, escape from reality, even if it drags him far away from the "construction point" of the ski jump. In 1998, he created a series of ski jumpers - miniature "Goldbergers" -, which seemingly jump into the endless void of the monochrome colour space.
Furthermore, Kodritsch's work proves to be slightly destructive and sarcastic. In 2000, he produced the work series Cobra GT - 11 muschi variants, consisting of detailed drawings of technically altered and improved "hot irons," as motorcycles are treated in rural areas, with red sheet plates and cats of burned clay. The profile of the tyres as weapons is embossed into the back of the prey, similar to comic films like Tom & Jerry or in an enriched version, Itchy & Scratchy, who are loved by Bart and Lisa Simpson. Similar to the Simpson show, which doesn't spare any kind of political incorrectness, Kodritsch uses this tool for his artistic actions: if against our "beloved animals," which are smashed by half-wit motorcycle knights, or against pin-ups and buxom blondes on palm-tree beaches, as simple objects of desire.
Kodritsch's paintings are often personal, sarcastic statements on current affairs and society - with a penchant for exaggeration, like the picture Viva Las Vegas, showing the, by the white tiger injured, body of the headless magician Roy, or a crashed car, in front of which a fire fighter smiles roguishly and inappropriate for the terrible situation. Unlike Andy Warhol, who prints the real event on canvas with the help of photographic images and directly confronts the spectators of his Car Crash pictures with the facts of horror, Kodritsch paints a situation which is based on black and dirty humor. In his actions as well as paintings, Kodritsch anticipates our direct emotional reactions, oscillating between roguish, inappropriate smiles about puns and an   unbelievable discomposure concerning political incorrectness.
As harsh and sarcastically Kodritsch's utterances in image, text and language form maybe be vis-à-vis the spectators, the more personal and vulnerable they are against themselves. The artist uses artistic media as a mirror of his own self, the unconscious, his drives and desires. In Pommes Mama, he goes back to the first moments as a newborn, seeing the light of day. Soon the first words, "Pommes" and "Mama" are about to follow. Another autobiographical work makes Kodritsch tie his first doll, which is as old as he himself, to an iron, which then gets photographed, because he accidentally saw it that way. The clear violence, which can be seen in this situation, impressed the artist. Childhood memories are also mirrored in Nachtschicht (night shift)   - a children's slide, whose ramp is blocked by an impermeable concrete wall. Kodritsch was raised in a working district, where people mainly slept during the day due to their night shifts, cursing the crying children in the backyard's playground.
In spite of the strong thematic positioning of his art, Kodritsch also wants to see himself as painterly painter, with the intention to pack the picture contents into a dense painterly dress. In Affen- Serie (monkey series), which deals with the solving of problems through drives and sexuality, Kodritsch applies the brush immediately and full of verve, thus condensing the brush strokes to atmospheric impressions of figures and surfaces, creating exciting relations of light and shadow.
In his latest work series, Kodritsch addresses the absence of painting. He paints large-scale, emptied studio walls, where you can only see heating tubes and the remains of pictures which were taken off the walls: colour splashes, embossed edges of the canvases, traces of the process of painting outside the picture frame. The accidental, the "detritus" becomes the subject of the pictures and obtains new aesthetic dimensions.