Hannah Stegmayer – text about "Schassvampir"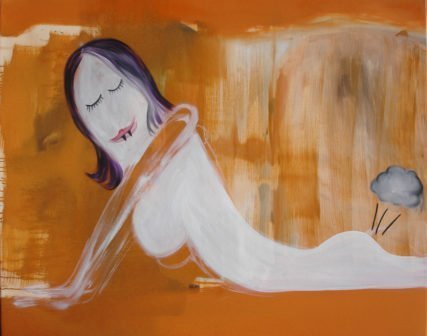 More than just a matter of size
"We shouldn't let artistry get in the way of art." This is a tall order in the world of contemporary painting, which shows signs of reverting back to figurative painting whenever it attempts to attract a maximum of public acceptance. The quotation at the start of this piece comes from Jonathan Meese and is certainly true of Ronald Kodritsch. Although the latter has artistry in abundance, he is able to tone down his use of it to a considerable extent. Even in the remotest formulation and most far-fetched idea he can achieve a graphic or pictorial quality that defies description in terms of conventional categories.
Anyone wishing to get to the bottom of this phenomenon should first examine pictorial themes, the form used to treat them, and how form can undermine sense and signification. They should reflect on painting and its vocabulary of expression. A careful look at the works of Kodritsch very quickly reveals a formula which states that painting is equal to colour. Painting consists of the relationship between the object and the background, and uses different formats to create pathos or its opposite – i.e. humour.
First of all it is the choice of theme which makes Kodritsch's paintings so extraordinary. His works conjure up a third aspect, that of sarcasm, which sits halfway between humour and lamentation. In this respect Kodritsch is merely following on a long series of Austrian artists with sharp vision and clear formulations. Gerhard Rühm is one of them, as is Günter Brus. In fact the title of Kodritsch's piece Schassvampir borrows from the name of the latter's journal in exile: Die Schasstrommel.
Kodritsch possesses keen powers of observation. The subject matter that thrusts itself upon him is one which a painter can scarcely avoid as a producer of pictures. His themes are mundane, but not necessarily banal – there is nothing banal about his dead man hanging from a tree, for example. They can be political in nature: take, for instance, his iconic depiction of Jörg Haider's wrecked car, which Kodritsch places in the centre of the Austrian flag. And his themes can be humorous, as in the case of the unequal meeting of a bear and a woman. Here, naiveté meets sophistication, and we are left thinking that unequal couples can't really get on with each other.
This chance meeting of unequal things causes them to either wax or wane in significance, as in the case of Batman, who only gains in stature by standing on an oversized plinth. In this depiction his arms are trying to grab a pair of larger-than-life breasts, yet these are barely recognisable as such since they draw on the same repertoire of form which is used for the bat wing.
What strikes us is the broad spectrum of genres he cites. Their stylistic levels are completely different, yet they are juxtaposed on equal terms in his pictures. One source of inspiration in this regard appears to be the comic strip. The attraction of comics is that they can simplify complex situations and therefore take them to extremes. Here Kodritsch progresses from abridgement to a form of abbreviation that tends to defy any further reduction. Batman is an example of this recognisable reduction. Its abstraction concentrates on the essentials and has an immediate impact on the viewer. The surprising twist in the tail is also a device used by the painter: Batman comes across a second example of his species downtown in Gotham City instead of the Batcave.
A little exhibitionistic, pornographic or simply just capturing the essentials? Kodritsch gets to the heart of the matter. He examines the underbelly of social conventions and rattles popular taboos. Not everything is as it quite seems. Ultimately, he aims at our habits and ends up hitting the nail on the head. A penis turns into a hand, a plait of hair into a shackle, the portrait becomes a comic, and the meaning of things barely shifts before reappearing in a completely new guise to the viewer.
Kodritsch has Batman meet Blondie in an astonishing way. The erect penis is prepared as a woman, with face and hair, so that the target and cause of desire melt into one. And the hero looks at his bareness, which becomes a marionette despite its impressive dimensions. The moon above becomes a speech bubble, empty, because there is nothing more to say.
A recurrent theme in his painting is the relationship between form and background. In the series of ski jumpers the motif is so small as to virtually disappear against the almost monochrome colour surface. From each side and in each position we see the ski jumper always flying in isolation against the background of a blue portion of sky, leaving us with mixed feelings: freedom becomes transformed into a fear of hazards and risk; the small format of the piece conveys helplessness as well as the ridiculousness of existence. This effect is produced solely by the proportions of what is depicted.
The same principle can also be observed in other examples of Kodritsch's work. By presenting banal things in a big setting, he produces a playful sense of irony based on confusing size with significance, as demonstrated by his 1.40 metre long carrot rocket. In another instance, the flat canvas becomes a pictorial space when a tiny kangaroo stares at a larger-than-life courgette. This is only possible by placing the animal in the distance, much further away than where it actually is in the picture.
While banal things are presented in a big setting, major themes such as the motif of the hanged man are portrayed in almost miniature-like dimensions, as if they were too intimate to be presented to the viewer in an over-bloated way. The different dimensions of the canvas also play with size as a function of significance. And here the painter reveals his incredibly keen sense of the impact such pictorial devices can have by deploying them with great sensitivity.
Hence Kodritsch is an artist who makes intensive use of the interplay between dimensions, stylistic levels and artistic media in order to arrive, ultimately, at an extraordinary concordance of form and content. He uses all the media at his disposal in order to approach each theme with the means best suited to his purpose. His drawings use a minimum of lines to get straight to the point while his paintings play openly, freely and generously with the means at their disposal. The contents of the pictures affect the viewer who cannot fail to remain unmoved.
In Kodritsch's case, painting is always recognisable as such; it remains in motion and is not deadened by the fatal rigidity of definitive revision.
As a painter, Kodritsch is interested in art history, painting and the means of painting. "The making of socks" treats the painting process in an ironical way: the palette of paints he uses is included in the picture, and everything becomes clear: art comes out of tubes of paint, there's no need to pretend this is a secret. Sigmar Polke made higher powers responsible for his pictures and Kodritsch takes this game a step further.
To this end he uses texts which appear in the pictures – sometimes as single statements: We drank a lot, but we didn´t get famous yet, it says on one of his works. In other cases the text is an inscription or labelling of objects in the picture. Brot, Wein, Milch, Eier, Käse is written on the body of an incompletely painted naked woman. Either he is using the canvas here as a shopping list or he is signalising the list of things required to sustain life, which also include Eros and lust.
Jasper Johns appears in the flag pictures alongside Austria, his country of origin, which has almost compulsively inspired him to come up with countless ideas.
It is difficult to distinguish between provocation and resignation in this case. While a recent large flag picture presents Jörg Haider's crashed car – a Phaeton, a myth that pushes the boundaries – a series of smaller pictures represents death as an unspectacular event: strung-up birds are juxtaposed in the same pose with a hanged man whose erect penis is a last biological marvel before the finality of death.
When Uschi Glas was awarded Austria's Honorary Cross for Science and Art Kodritsch protested the decision together with Georg Pruscha. Both were disguised as Horst Tappert and Pierre Brice. Provocation or resignation? Kodritsch has found the right means of dealing with these phenomena by transposing them into art.
The fact that his sculpture "Reason to believe" was erected in Vienna precisely at this time is hardly a coincidence. A male figure with a tailored suit and briefcase teeters dangerously on the cornice of a high-rise building at the Getreidemarkt, on a knife edge as it were.
Kodritsch likes to present himself first and foremost as an artist, probably as a means of person concealment, and finds plenty of motifs. But his visual transpositions go beyond the mere process of depiction. Quintessentially, his work is all about coming up with ideas which have always been in short supply. He appears to have a wealth of creative capital which enables him to create amazing new artistic constructions, the product of a rare talent. As if to emphasise the point he has called one of his pictures: Manchmal fühl ich mich eher wie ein Schriftsteller ("Sometimes I feel more like a writer"). Language and images are intimately connected in his work and feed off each other in a dynamic process. So how could a standstill occur here?
Hannah Stegmayer using texts from Benedikt Stegmayer